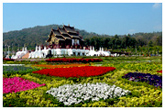 The International Horticultural Exposition Royal Flora 2011
A Tribute to the Royal Perseverance
The exposition is held at the Royal Ratchaphruek Park in Chiang Mai from the 14 December 2011 to 14 February 2012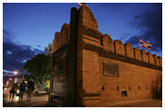 Chiang Mai City Area
Chiang Mai Attractions inCity Area are famous temples, Saturday and Sunday market walking street, department stores, coffee shops, restaurants, etc.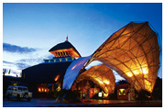 Chiang Mai Night Safari
The most beautiful night safari in the world with over 300 acres of natural land surrounded by Doi Suthep-Pui National Park, it opens plains tour shows rhinocerous, giraffe, zebra and deer co-exist on the open plains, watched closely by a pride of lions!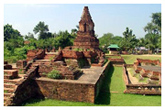 Wiang Kum Kam Ancient City
It is believed that it was built by the first king of the Manrai Dynasty, who was the founder of the Lanna Kingdom in A.D. 1286. The area was restored as a historical park during the 1980's. Surrounded by paddy and village houses, the extensive site has a pleasant rural feel.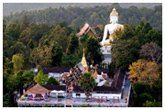 Doi Kham Temple
The Doi Kham Temple is at a higher elevation than most. It spots the largest Buddha image in Chiang Mai. It also provides a rather impressive view of the city.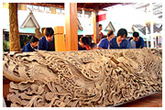 Baan Tawai Handicraft Village
It has been known as the major cultural attraction of Chiang Mai for Thai and foreign tourists. The best quality and bargains of wood carving items can be found here.